Understanding your medical insurance benefits and out-of-pocket costs can be confusing. 
Making sense of your mental health benefits (e.g., psychotherapy or counseling) can be even moreso! 
Add in the current coronavirus (COVID-19) pandemic, which has forced most therapists and counselors to exclusively offer telehealth services (i.e., video and telephone), and it feels like anyone's guess what might or might not be covered. 
While I have offered video and telephone visits for a few years, until now it has been only a small portion of my practice. At present it is all that I do! 
I am currently an in-network provider for most Blue Cross Blues Shield health insurance plans (not the managed Blue Care Network HMO, however). I have been successfully submitting claims for telehealth services and they have been covered at the same level as in-person visits. 
This has been a very good and helpful development over the last couple of years.
Due to the COVID-19 pandemic Blue Cross Blue Shield has recently updated some of their telehealth services. These changes are meant to provide easier access to much needed services (via telehealth) while practicing the social distancing recommendations meant to protect us all.
Blue Cross Blue Shield is also temporarily removing the financial hurdles many people face by waiving cost-sharing requirements (e.g., copays, coinsurance, and deductibles) for video and telephone psychotherapy services.   
Here is their new policy as it was presented to Blue Cross Blue Shield Providers. 
"During the COVID-19 pandemic, Blue Cross and BCN want to make it easier for you to care for your patients. Through June 30, 2020, we're providing no-cost telehealth visits for the most common office visits and hospitalization follow-up visits and for the most common behavioral health services."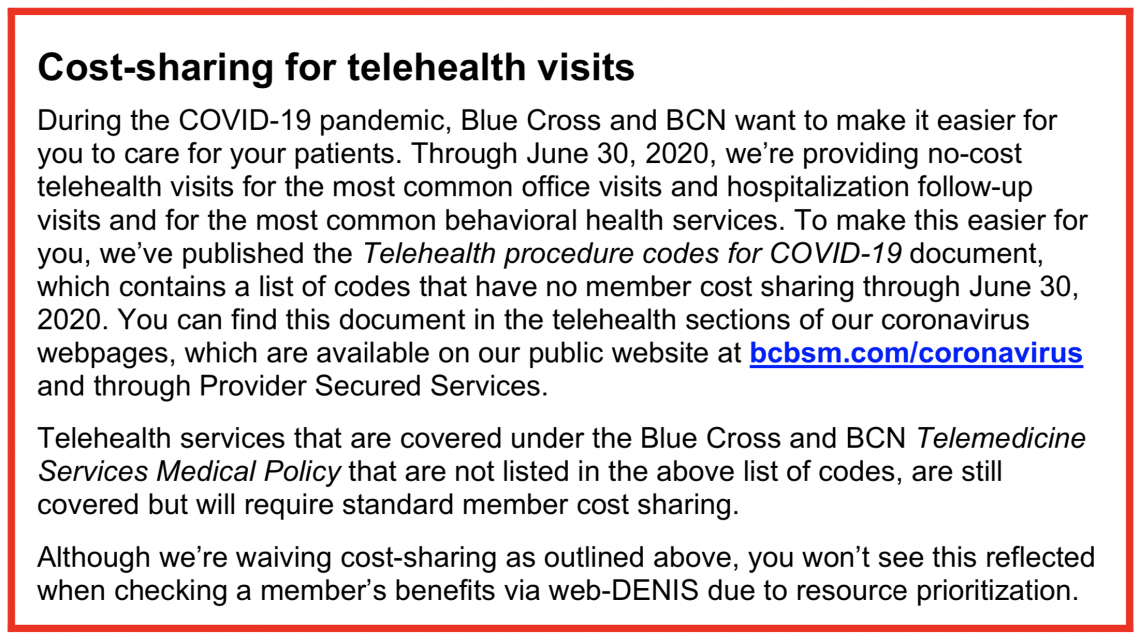 What does this mean? Here is my understanding:
Video and telephone psychotherapy visits will continue to be covered for in-network providers (like myself).

Video and telephone psychotherapy visits will be covered at no cost to you (e.g., no copay, no co-insurance, no deductible), at least through June 30, 2020.

Starting July 1, 2020 (at least as it stands now), your normal cost-sharing requirements will restart (e.g., copay, co-insurance, and deductibles).
BCBSM has a weekly billing cycle and this is the first week that I have noticed this change. There may be a lag of a week or two as this new policy rolls out. I am encouraged, however, that this policy will greatly improve access to much needed services for most people. 
The bottom line here is that it has never been easier to get the mental health services that you might need, especially during this time of global anxiety, depression, worry, and uncertainty. It is free and you do not have to leave your home. 
Your needs do not have to be specifically COVID-19 related either, although I suspect there are precisely zero people who haven't been impacted by COVID-19. 
I am hopeful that other insurance plans will implement a similar policy change (if they haven't already). 
Please feel free to contact me if you would like to discuss your options for receiving mental health services.
I am a clinical psychologist who is fully licensed to provide psychotherapy services to currently residing in the state of Michigan. I am an in-network provider for most Blue Cross Blue Shield plans, as well as most Aetna plans. I am happy to help facilitate billing for any out-of network plans as well.